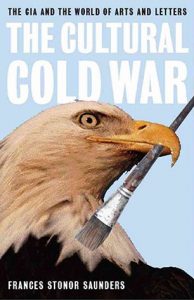 There is a lot written about Cuba–U.S. Relations. However, the cultural war (including arts/design, ideology and politics) led by the U.S. against Cuban socialist culture usually flies under the radar. Nevertheless, one will notice another important dimension by reading a recent January 5th article in the Miami Herald. It very favourably reports on an upscale (and relatively wealthy) T-shirt design private business in Havana called CLANDESTINA. It even manages to export to the U.S. Here are some excerpts from the Miami Herald piece:
"Clandestina's T-shirt designs are fun, a bit tongue-in-cheek with a touch of political or revolutionary edginess — or maybe not — depending on how you take it. Even the name Clandestina (underground, clandestine) is slightly subversive."

"To 'make ethical fashion, that sometimes is a way to resist, to overcome, to reuse and to understand that there is a good side to everything,' is the way del Río explained the Clandestina philosophy in a blog post."

"A few of the politically ambiguous T-shirt designs offered online by Clandestina: The one in the foreground says" "'Resist and Overcome.'"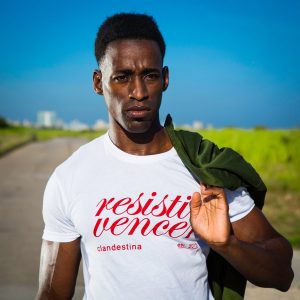 I ASK: "RESIST AND OVERCOME" WHAT? AND WHAT IS THE IDEA?

WHAT IDEA DOES THE TERM "SUBVERSIVE" CONVEY IN CUBA"?

WHICH IDEAS DO THE WORD "CLANDESTINE" INTRODUCE INTO CUBA?

QUESTION: HOW FAR-REACHING (EVEN EXPORTING INTO THE U.S.) AND RELATIVELY WEALTHY IS THIS BUSINESS COMPARED TO ORDINARY MORE PATRIOTIC SMALL BUSINESS OWNERS. HOW DO THE LATTERS' IDEAS AND VALUES CONTRAST WITH THOSE OF CLANDESTINA?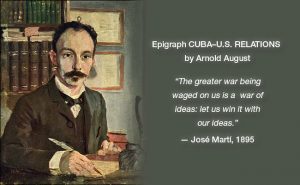 This example, among many others, confirms the well-documented thesis regarding the war on ideas (or cultural war) in my book CUBA–U.S. RELATIONS. This T-shirt business and its owner were explicitly promoted by Obama during his March 2016 visit to Havana. The owners graduated from the Columbia Business School's Entrepreneurship and Competitiveness in Latin America Program.
Since the Obama pitch, and even since the Trump electoral victory, in addition to the Miami Herald this "small private business" has been promoted by:
Vogue
The New York Times
Reuters
The Guardian
WWD
Racked
The CLANDESTINA business model has thus been handed over to the Trump administration on a golden platter. Therefore, it is also an example how the basic U.S. policy of trying to subvert the Cuban Revolution under both Obama and Trump have certain features in common. Am I (and prestigious Cuban writers cited in my book such as Luis Toledo Sande, Elier Ramírez, Iroel Sánchez & others) wrong when we contend that there is indeed a cultural war in progress?
It is not a question of T-shirts, but the message.
Whether you agree or not, everyone is welcome to attend and debate.
January 23 @ 6:00 pm – 8:00 pm
Busboys & Poets – 14th & V
2021 14th Street NW
Washington, DC
Further information:
The Institute for Policy Studies
http://www.ips-dc.org/events/cuba-policy-obama-trump-differences-distinctions/
Here is the full Miami Herald article:
http://www.miamiherald.com/news/nation-world/world/americas/cuba/article193068834.html