All are invited to the Toronto launch of Arnold August's latest book:
Cuba–U.S. Relations: Obama and Beyond.
Trump and Cuba.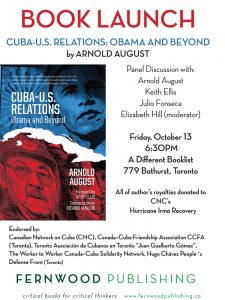 The evening will feature a panel discussion with Arnold August, Keith Ellis, Julio Fonseca, and moderated by Elizabeth Hill (CCFA, Toronto).
Friday, October 13 at 6:30 PM – 9:30 PM
A Different Booklist
777-779 Bathurst Street, Toronto, Ontario M5S 0B7
Bathurst Station Eastbound Platform
Sponsored by Fernwood Publishing and A Different BookList
Keith Ellis. Born in Jamaica. Professor Emeritus, Department of Spanish and Portuguese, University of Toronto, and Professor of Merit. Doctor honoris causa from the University of Havana and the Order of Distinction from the government of Jamaica. He is a Fellow of the Royal Society of Canada. Author of the Foreword to Cuba–U.S. Relations: Obama and Beyond.
Julio Fonseca. M.A. Applied and Theoretical Linguistics. Department of Languages, Literatures and Linguistics York University, Toronto Course Director, Spanish and Portuguese Section, D.L.L.L., Spanish Business Communication and Culture, Schulich School of Business, York University.
Greetings from the Consul General of the Republic of Cuba in Toronto, Tania López Larroque.
Greetings from the Consul General of the Bolivarian Republic of Venezuela in Toronto, Luis Acuña Cedeño: "Views on Venezuela in the Book and the Current Situation."
All author's royalties from the sale of the book at this event will be donated to the CNC's Hurricane Irma Relief & Reconstruction for Cuba Campaign. 
About the book:
Against the background of the history of Cuba–U.S. interconnectedness and in light of Obama's ini­tiative and Trump's election, Arnold August deals with the relationship between the two countries, delving into past and current U.S. aggression against Cuba's artistic field, ideology and politics. Based on twenty years of fieldwork in and investigation of Cuba, this book provides a unique perspective on the island's diverse approaches to the cultural war being waged by the U.S. and illustrates the heterogeneous nature of Cuban society.
EXTRACTS FROM SOME PRAISE AND THE FOREWORD AS PUBLISHED IN THE BOOK:
"Arnold August brings to the task his finest gift, his superbly developed talent as a journalist, understanding this to mean the habit of assessing different aspects and representations of reality, so that he offers an ultimate fairness to the reasonable and humane reader. August constantly exhibits a related attribute: his remarkable power of analysis. The two together make the experience of reading him an enlightening one."
— Keith Ellis
"This book could not have been more timely. With Fidel Castro's death focusing outside attention on Cuba's future and with Trump's election throwing U.S.–Cuban "normalization" into question, Arnold August contests the common assumptions and public rhetoric about Cuban politics and about that 'normalization.'"
— Antoni Kapcia, University of Nottingham
"August provides the reader with a bridge across time and nations to understand the changes that have led to the "normalization" of Cuba–U.S. relations and serves as a guide to the Trump future."
— Helen Yaffe, London School of Economics
"Here at last for English-speaking readers is a full overview of U.S. relations with Cuba from Cuban points of view. The book is essential background for understanding whatever President Trump has in store."
— Cliff DuRand, Morgan State University
Endorsed by:
Canadian Network on Cuba (CNC)
Canada–Cuba Friendship Association CCFA, Toronto
Asociación de Cubanos en Toronto "Juan Gualberto Gómez"
The Hugo Chávez People's Defense Front
The Worker to Worker Canada–Cuba Solidarity Network
https://www.facebook.com/events/110955159576979/?acontext={%22ref%22:%22106%22,%22action_history%22:%22null%22}