All are invited to the Toronto launch of Arnold August's latest book, Cuba–U.S. Relations: Obama and Beyond.
The evening will feature a panel discussion with Arnold August, Keith Ellis, Julio Fonseca, and moderated by Elizabeth Hill (CCFA, Toronto).
Friday, October 13 at 6:30 PM – 9:30 PM
A Different Booklist
777-779 Bathurst Street, Toronto, Ontario M5S 0B7
Bathurst Station Eastbound Platform
Sponsored by Fernwood Publishing and A Different Booklist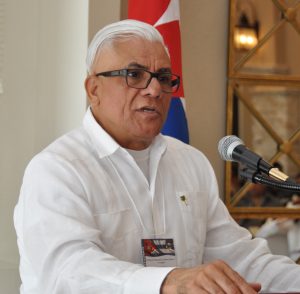 Julio Fonseca. M.A. Applied and Theoretical Linguistics. Department of Languages, Literatures and Linguistics York University, Toronto Course Director, Spanish and Portuguese Section, D.L.L.L., Spanish Business Communication and Culture, Schulich School of Business, York University.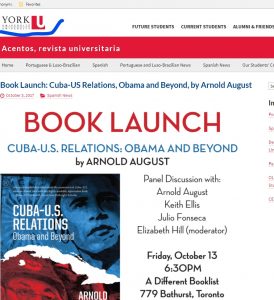 Further information: FaceBook-
https://www.facebook.com/events/110955159576979/?acontext={%22ref%22:%22106%22,%22action_history%22:%22null%22}
And web site-
https://cubausrelations.com/Blog/cuba-montreal-author-arnold-august-book-launch/