On July 8, Miguel Díaz-Canel, first vice president of the Cuba  Councils of State and Ministers, gave a speech during the ceremony marking the 50th anniversary of the death of Che.
He said that Cuba will not make concessions inherent to its sovereignty and independence and will not negotiate its principles. To emphasise his point, Miguel Díaz-Canel quoted the immortal statement by Che:
"'Never trust imperialism – not one iota.'"
You are probably looking at the next President of Cuba's Councils of State and Ministers.
Photo: Juvenal Balán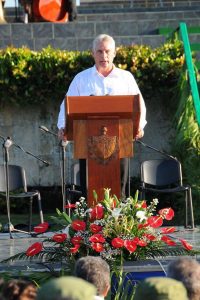 Everyone is welcome to the Friday October 13 Toronto book launch of CUBA–U.S. RELATIONS. Among other issues, discuss this juncture in the Cuban political system and its effects on Cuba–U.S. relations. In addition to the panelists, the Consul General of the Republic of Cuba in Toronto Tania López Larroque can respond to any questions.
Full info here:
The Different Booklist event page
Web site:
https://cubausrelations.com/Blog/cubausrelations-arnoldaugust-toronto/